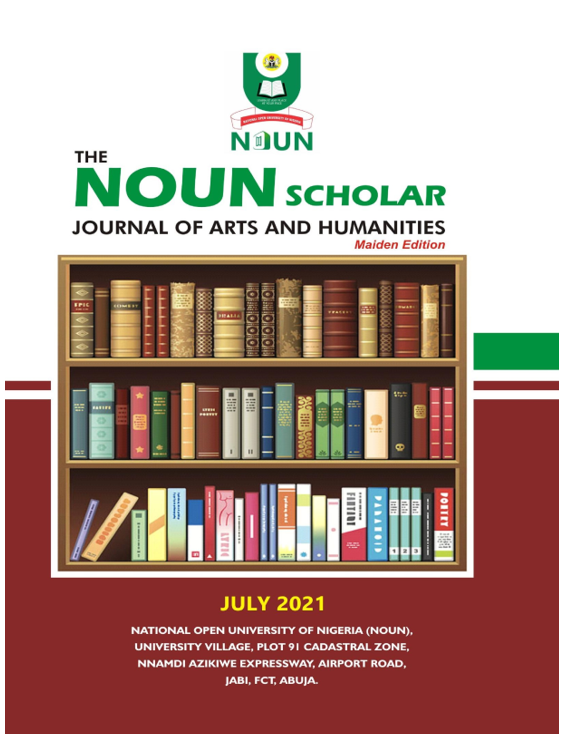 Welcome onboard this Maiden Edition; THE NOUN SCHOLAR of the National Open University of Nigeria.
In this maiden edition, it promises to be an interesting academic voyage covering various areas of interest, as we meet interesting academic contributors such as Iyabode Omolara Akewo Nwabueze, Doris. L. Obieje and Musa, Ahmed Eleojo, Ushe Mike Ushe, Philip Asura Nggada and Joshua Oluwaseyi Adejare, Daniel Datok Dalyop, Oamen Felicia, Promise Adiele, Theodore Iyere, Michael Enyinwa Okoronkwo, Oyekunle Oluwayemisi Adegboyega and Uwaezuoke Precious O, Atinuke A. Layade, Abel Aor Inyaregh, Eneojo Abalaka Idachaba, Daniel, Bem Apuuivom, Isah Adamu-Latiko and Hafsah Opaluwa Zakari, Oladejo, Tolulope Odunayo, Johnson I.Okohand Dike Uzoma Amos, Funke E. Oyekan, Joy Eyisi, Philomena Elom, Frank Onuh, Joy Eyisi Jr., Chinonso Okolo
Simeon Iember Aande (PhD), Solomon Terhemen Igyor, Nesta Andy-Philip and Fortunatus Godwin Pontifex Alabi, and 
.دور الكتاتيب والدهاليز في مقاومت تحدياث مسيرة اللغت العربيت والدراساث الإسلاميت في نيجيريا الدكتور / عبد الله مسعود غاتا
Their contributions cover topics in Discourse Analysis, African Traditional Religion and other areas of religious studies, Philosophical and Literary Discourses among so many others.  It is for this diversity that I can assure you that this promises to be an interesting academic voyage.  I thus invite you to hope on this scholarly train for an interesting academic adventure. Thank you and enjoy.
Doris L. Obieje
The NOUN SCHOLAR: Journal of Arts and Humanities

Volume 1 Number 1, July 2021. 
 Iyabode Omolara Akewo NWABUEZE, PhD
Ahmed Eleojo Musa (Ph. D) and Doris. L. Obieje (Ph. D)
Philip Asura Ngaka, PhD and Joshua Oluwaseyi Adejare
 Michael Enyinwa Okoronkwo (PhD)
Oyekunle Oluwayemisi Adegboyega and Uwaezuoke Precious Obioha
Abel Aor Inyaregh (PhD), Eneojo Abalaka Idachaba (PhD) and Daniel Bem Apuuivom (PhD)

Isah Adamu-Latiko and Hafsah Opaluwa Zakari
 ladejo, Tolulope Odunayo (PhD)
Joy Eyisi, Philomena Elom, Frank Onuh, Joy Eyisi Jr. and Chinonso Okolo
Simeon Iember Aande PhD and Solomon Terhemen Igyor
Nesta Andy-Philip and Fortunatus Godwin Pontifex Alabi, Ph.D
الدكتور / عبد الله مسعود غاتا